Overview​
Welcome to OsmAnd! Explore how to download maps, how to configure the application, how to use map and build a route, how to start navigation and how to search points of interest. Get acquainted with key points of OsmAnd Privacy policy and required Permissions.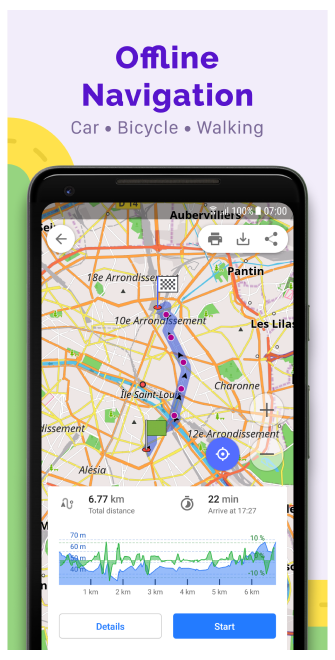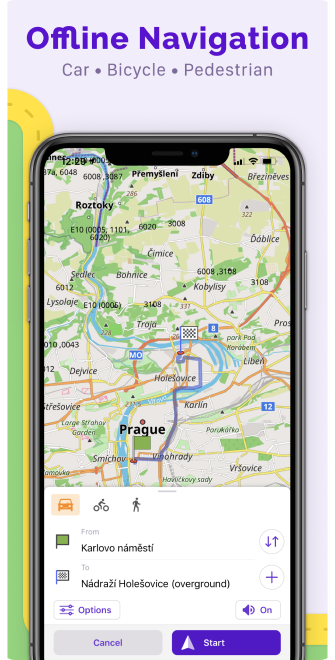 Install OsmAnd​
OsmAnd is a mobile application for Maps and Navigation available for Android and iOS. You can download it on most popular Markets.
Android markets: Google play store, Huawei AppGallery, Amazon.
iOS: App store.
Read more about OsmAnd versions and Purchases.
Welcome to OsmAnd!​
Our goal is to create a fully functional map-oriented application that could be used offline & online for various purposes. The application is full of features, so you don't need to switch between different apps and you will have everything at your fingertips:
Actions Guide​
Permission to access the location​
We recommend that you grant OsmAnd permission to receive information about the precise location of your device. We do not collect, use or share your private information, so access to the precise geolocation is needed for correct offline work of search, navigation, and other OsmAnd functions.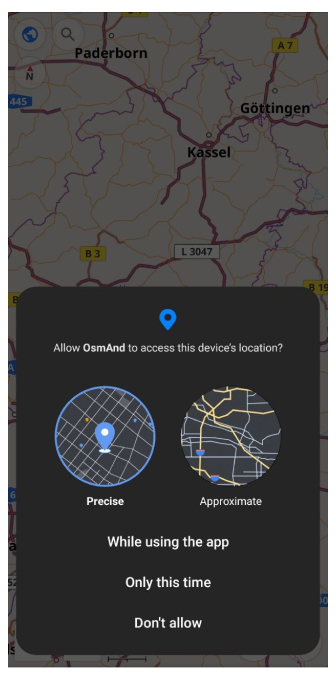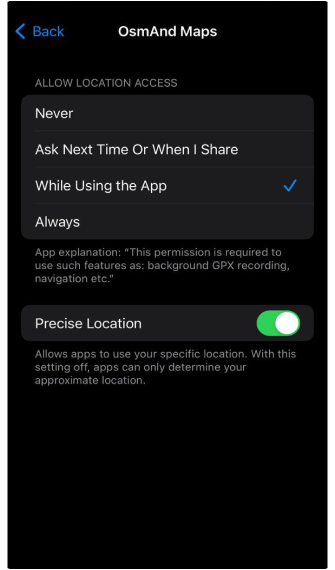 How to download maps​
OsmAnd is an offline map application, so after the Get started screen, you will be prompted to download map of your region. You can select another region or skip this step and download maps later.
note
Application is not properly functional without offline maps which are not distributed within the application. Even though application supports Vector maps and Raster maps, it is highly recommended to start with Offline Vector Maps to get all features properly functioning such as Search, Navigation, Context menu.
Read more about download map options.
How to manage your settings​
You could manage application settings as Global settings or as Profile configuration via Main menu. Application comes with a predefined list of profiles that could be modified later. Each profile could be considered as a customized map application for specific purposes. By default profiles are being served only as different navigation modes.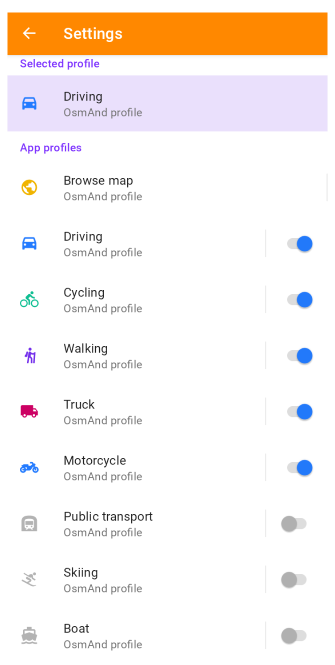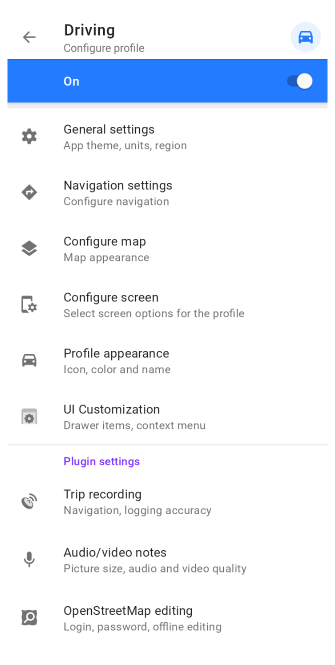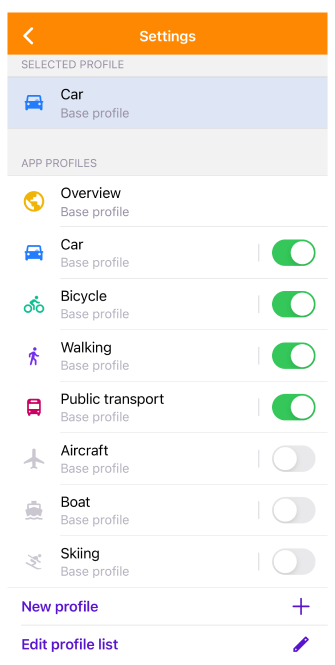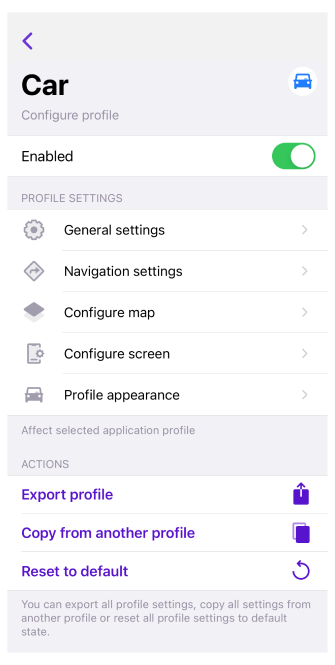 Read more about Global settings. Read more about Profile settings.
How to configure plugins​
Plugins greatly extend application functionality. Almost all plugins have their own Map Actions, Map Layers, Map Downloads and Settings.
You can enable / disable plugins via Main menu → Plugins.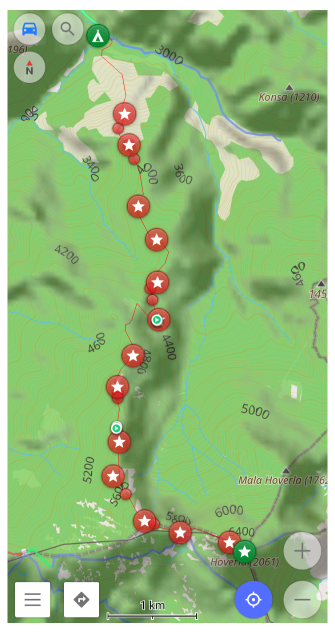 To enable / disable plugins go to:
Android Menu → Plugins → ︙ → Enable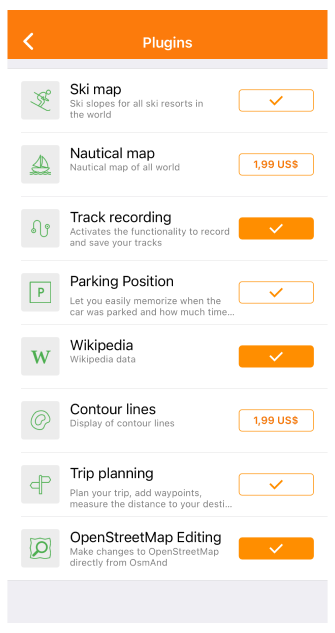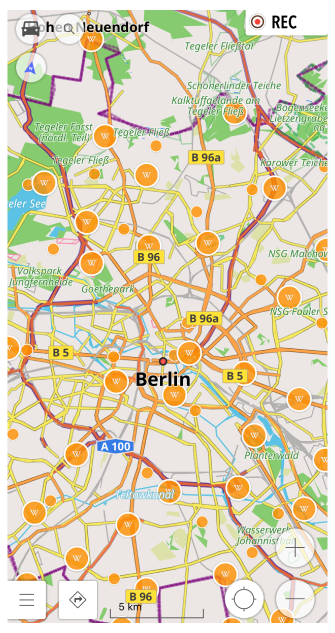 To enable / disable plugins go to:
iOS Menu → Plugins → ✓
Read more about OsmAnd plugins.
How to use map​
Map is a core element of OsmAnd and it's important to know how to use it (gestures, buttons, etc). You could configure map to your needs: change map style, configure different map layers such as favorites, poi, public transport, tracks, contour lines, hillshade and others.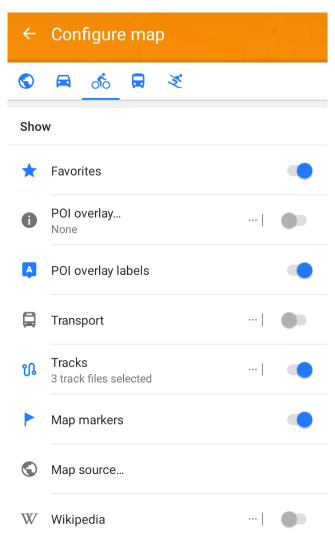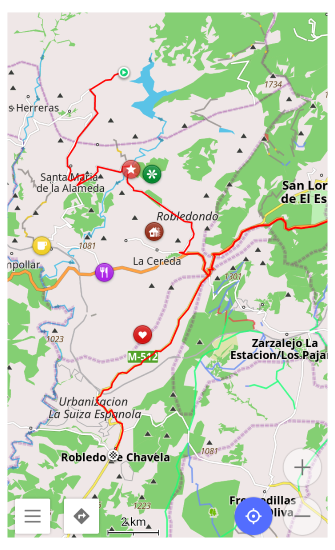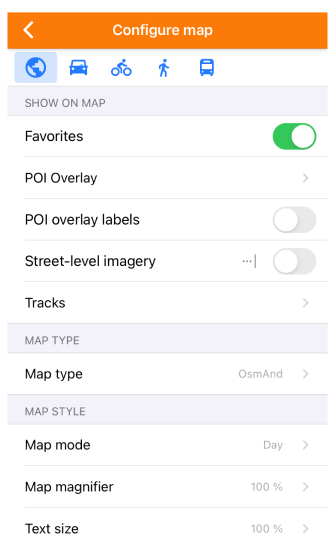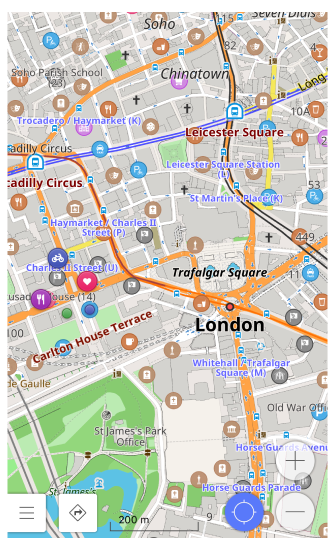 Read more about map configuration.
How to сonfigure screen​
Configure screen allows you to enable Informational (altitude, speed, current time, etc.) & Navigational (destination, bearing, arrival time, etc.) widgets, Quick action and other elements that will be displayed over Map.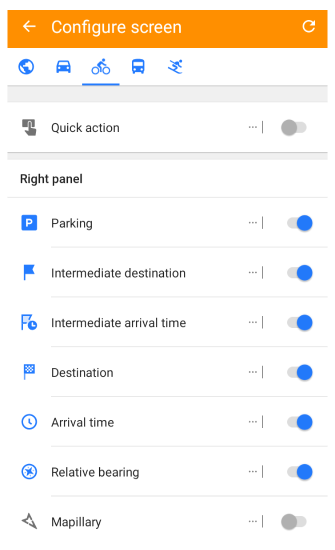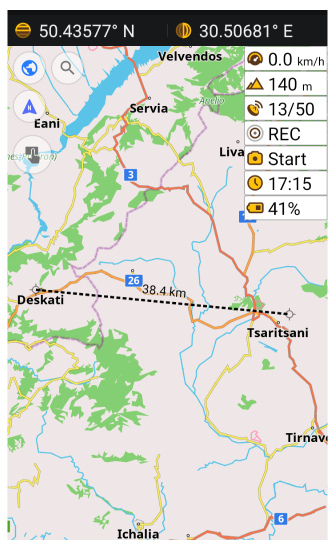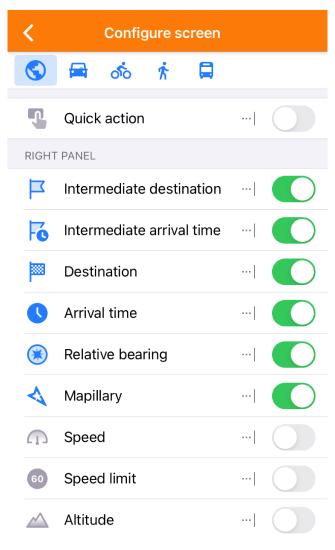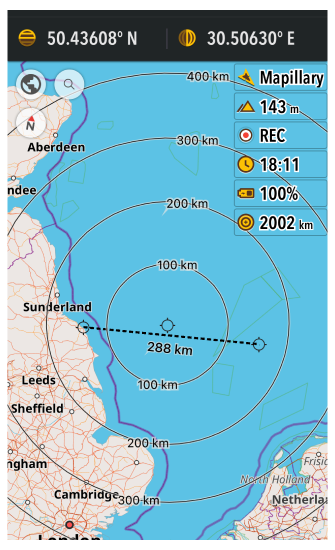 Read more about Screen configuration.
How to add personal data to maps​
OsmAnd allows you to make various marks on the Map for your personal needs. For example, Favorite points - personal points with name & icon & category, Markers - quickly added points as target, Audio/Video notes - media notes recorded at specific point, Tracks - recorded and imported tracks & tours.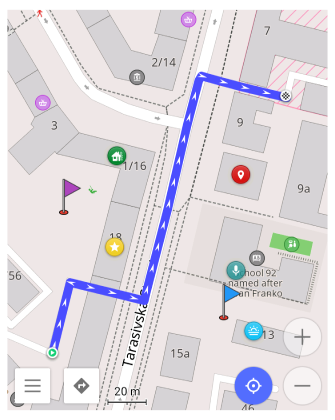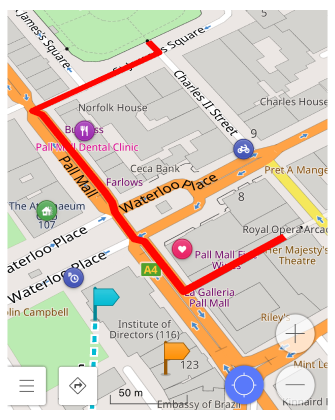 Read more about points on the map.
How to browse & find point of interest​
Points of interest (POI) are amenities that could be searched or highlighted on the map. They represent interesting or useful places and distributed as part of Vector Maps. You can use them to display on the map, navigate and search the points of interest on the Map.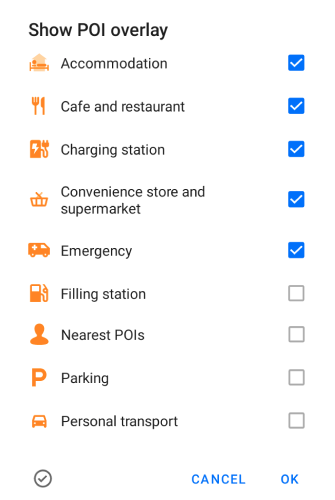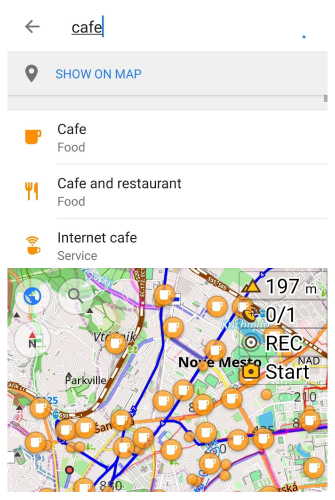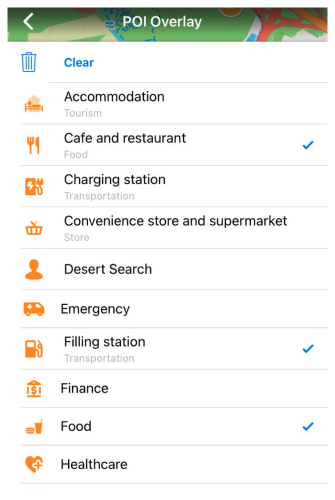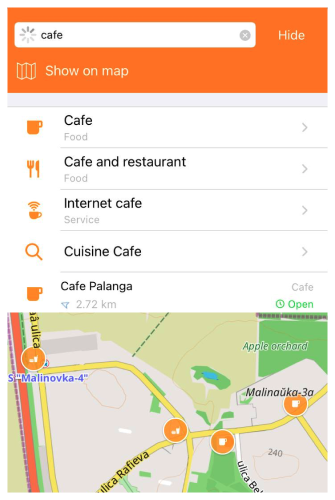 Read more about POI search.
How to plan a route​
Plan route is a powerful tool that allows to create a trip, edit an existing track and measure distance on the spot. You can quickly put intermediate points and connect them by various navigation lines (bike, pedestrian, straight line, etc). Results could be saved into a GPX file, so it could be shared, edited or used by navigation later.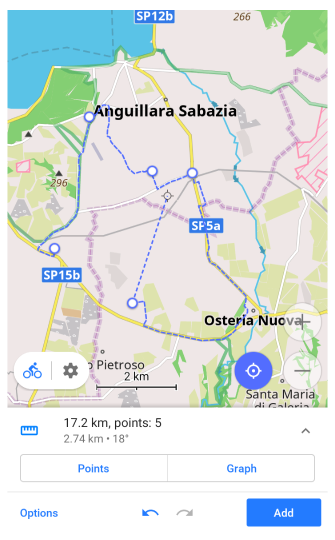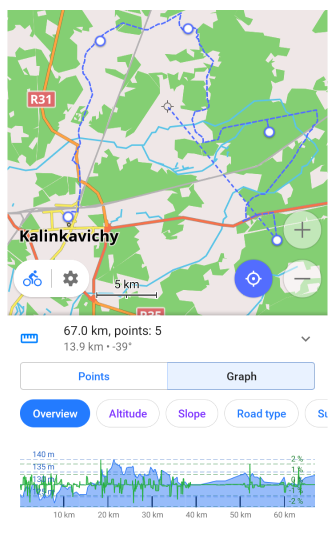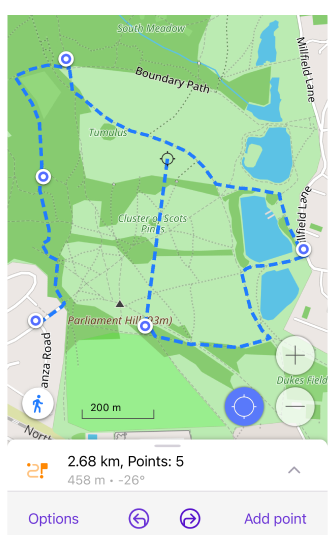 Read more about plan route feature.
How to search by address​
OsmAnd provides many search capabilities including address search. By default it uses OpenStreetMap data and should be able to find all addresses using Quick Search input. Also you can search by city, street, postcode and coordinates.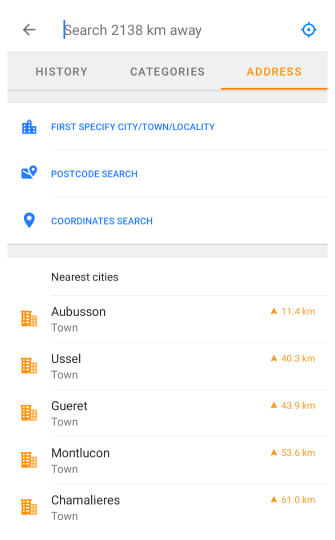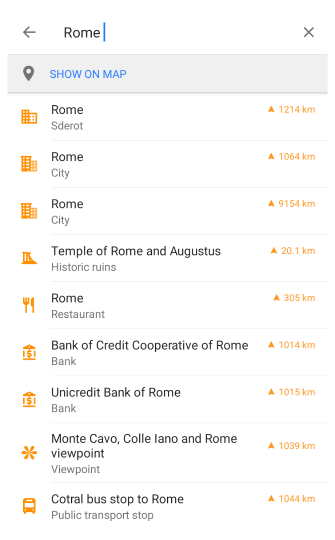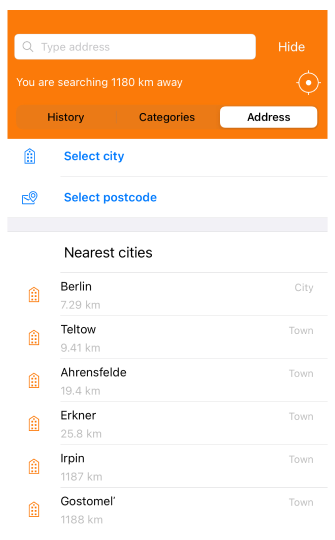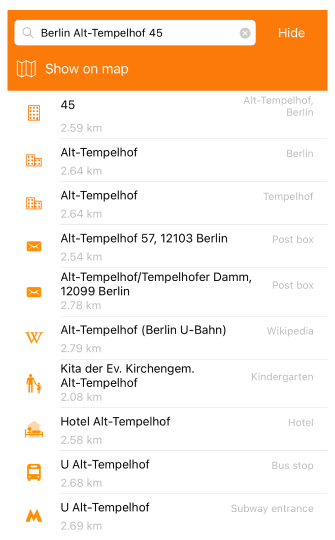 note
You need to download the map before searching for an address there. Also, if your current location is too far from your searching address you might need to increase the searching radius.
Read more about address search.
How to start navigation​
Navigation provides you step by step guidance to your destination by displaying the route, offering turn-by-turn instructions, extra road information about surface, smoothness, etc and optional voice guidance.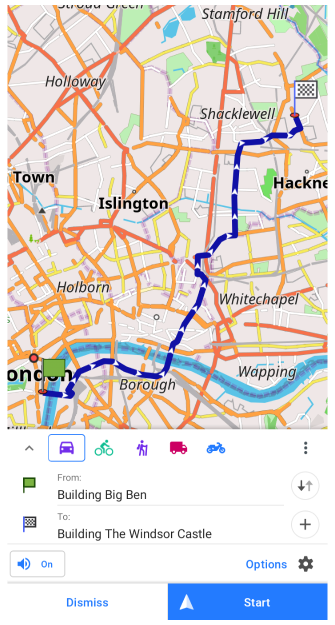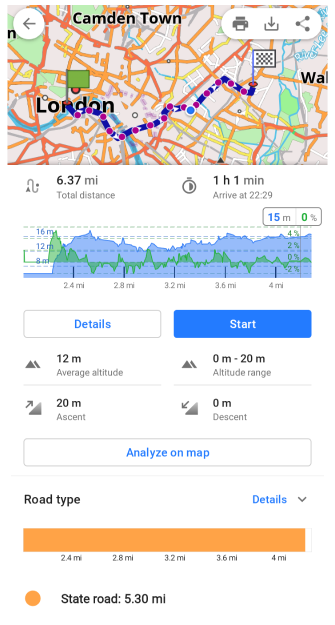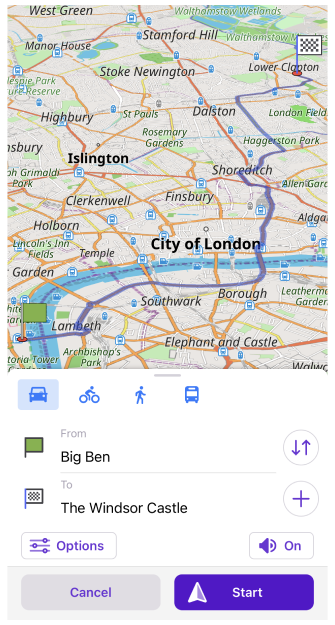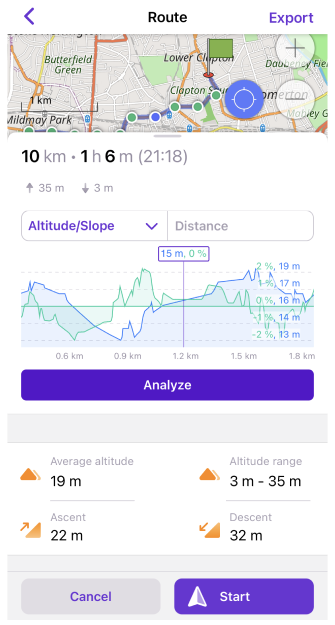 Read more about navigation.
How to record you trip​
Trip recording is a special tool packaged as OsmAnd plugin that allows to record all movements into track using the device's GPS.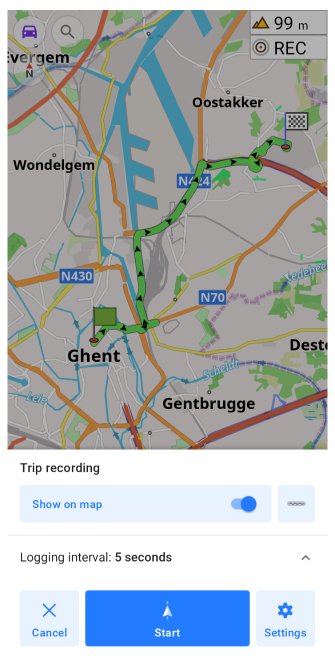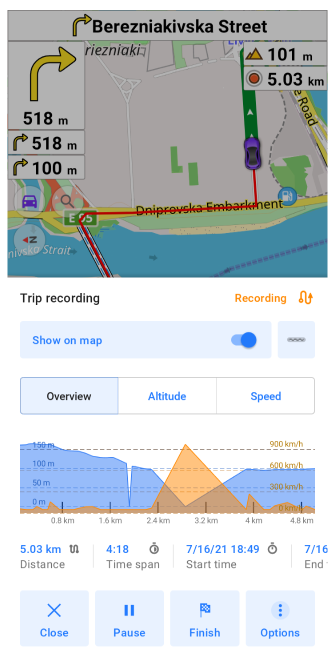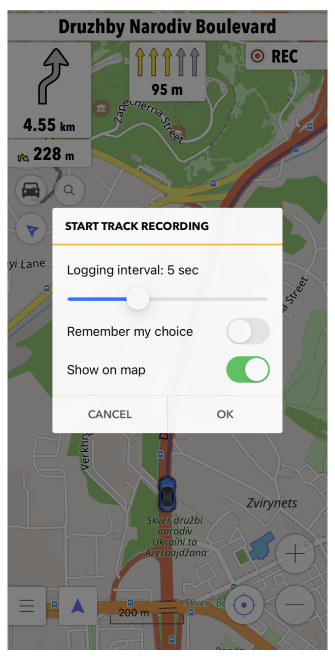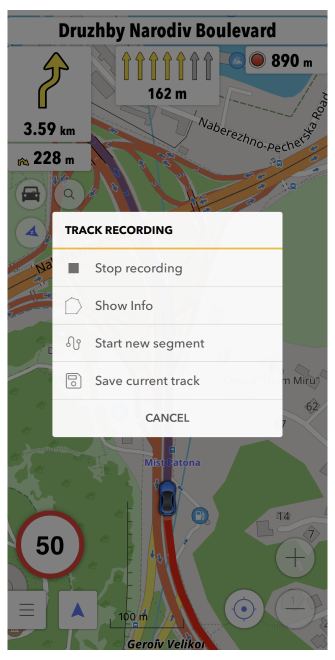 Read more about trip recording.
How to edit maps​
OsmAnd powered by OpenStreetMap data. The maps are created by volunteer contributors, so they can have more or fewer details depending on how much work has been done at a certain part of the map. Anyone can register as a contributor and add or edit OSM maps. OsmAnd provides an editing plugin that helps to improve the OpenStreetMap.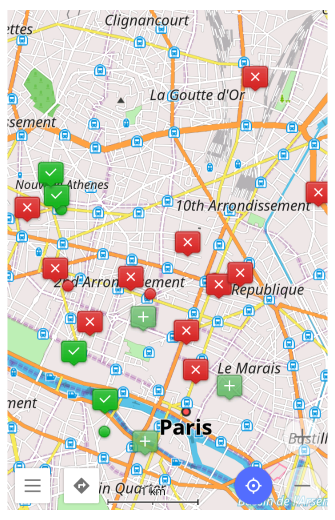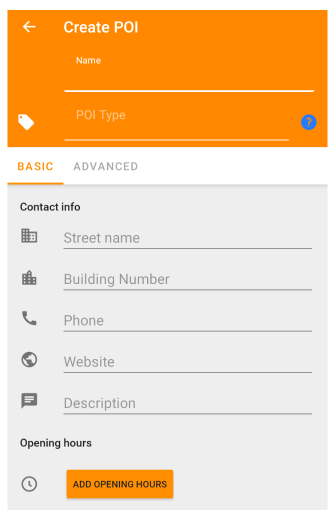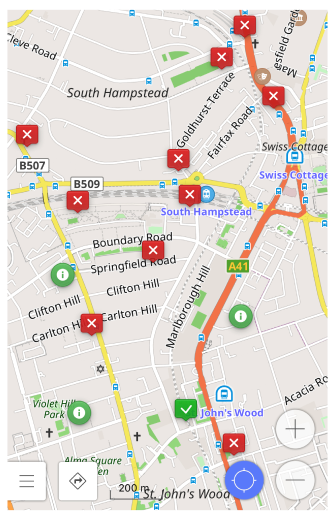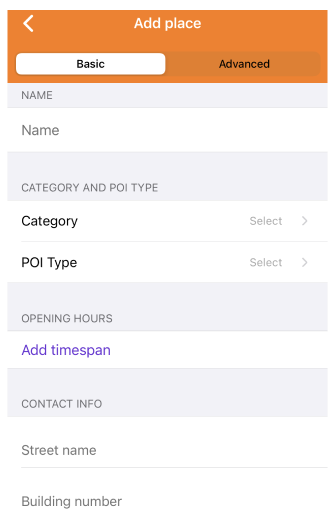 Read more about OSM editing.
How to close the app​
There are two available variants of how to close OsmAnd.
Close an app by swiping it up and off the screen. For vertically listed apps, swipe left or right.
Before it you might need to do the following, otherwise, OsmAnd will work in the background:
"Force stop' function:

long press to OsmAnd icon → click to i button → "Force stop"
Open the settings and tap Apps & notifications → OsmAnd → "Force stop"
Close an app by swiping it up and off the screen. For vertically listed apps, swipe left or right.
Before it you might need to do the following, otherwise, OsmAnd will work in the background:
App shortcuts​
App shortcuts are available for the OsmAnd icon. Just long tap the OsmAnd icon on your device screen to open App shortcuts menu. Here, you can click short tap for choosing next actions: "Navigate to Home", "Navigate to Work", "Start Recording", "Search", "My places", "Navigate to". Long tap one of the actions allows you to add new action icon to your device screen.
Tapping to the action icon allows starting this action immediately.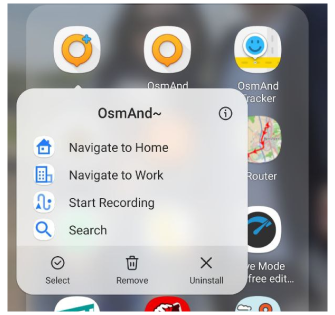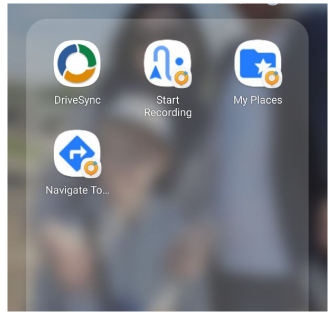 Privacy​
It is an open source, ads-free / tracker-free privacy focused application. In order to preserve maximum privacy, OsmAnd offers Offline maps as a first place, so no interaction, geo information is leaked from your device. We are very attentive to what data is collected and what data is transferred by network, you can read more in our Privacy policy.
Permissions​
OsmAnd doesn't have any required permissions on iOS / Android version.
Essential:
Optional:
Camera/voice recording (Android) - only used by the Audio/Video notes. This feature is packaged as plugin and by default disabled. It allows to quickly create location-related audio/video notes during a trip.
Troubleshooting​
If you have a specific question, please check Troubleshooting to have it answered.