Overview​
Moped routing allows drivers to build an optimal (fastest) route, taking into account the specifics of driving a vehicle such as a moped or scooter. The routing process considers various factors for safe, comfortable, and legal movement on roads or bicycle paths.
note
By default, Moped profile is deactivated. In order to use this profile for routing, you need to switch it on in Menu → Settings → App profiles.
Route parameters - Moped​
Moped routing can be configured according to your needs in the Route parameters section of the Navigation settings.
The moped's rooting settings are very simple and consist of just a few options.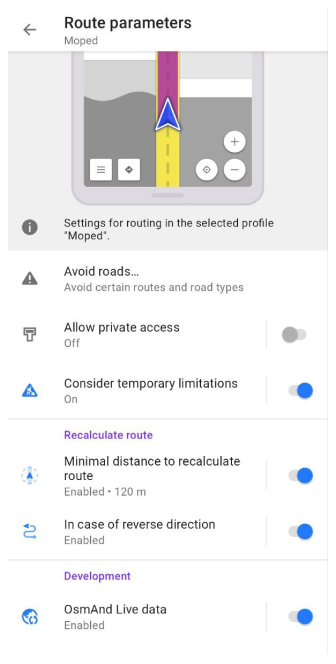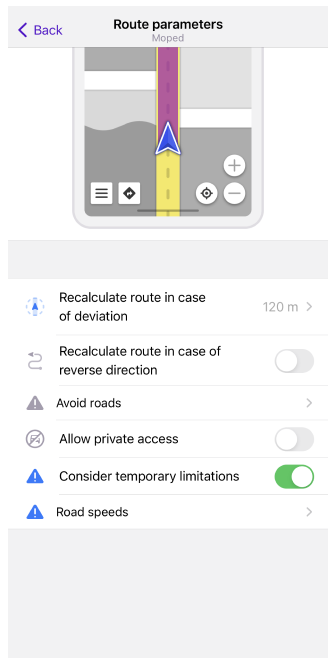 Parameter
Description
Note
Avoid roads…

Select roads you want to avoid during navigation.

You can either select a road on the map or choose road type(s) from the list:

No ferries (a type of water transportation, that carries vehicles across bodies of water)

Allow private access
Private access restrictions will be ignored when route calculating.
Tag private is used in OSM to describe restrictions on the use of highways and other transportation routes, as well as buildings, entrances, amenities, and leisure entities.
Other routing settings:
The routing algorithm can take into account temporary limitations specified in OpenStreetMap. This can be done by using Consider temporary limitations option. Note that in some cases, the information from OSM may be outdated.
In the Recalculate route section of the Route parameters, you can enable and adjust route recalculation options.
Default speed (Android) or Road speeds (iOS) should be set according to your vehicle parameters. They are used for the unknown roads without speed limits. Mostly it happens, if you navigate by track or online routing.
In the Development section of the Route parameters (Android only), you can try new routing features, that are under testing now. Note, that these settings are only available when the OsmAnd development plugin is enabled.