🚧 
This article is incomplete
This article is incomplete & needs to be reviewed. You can help by creating a pull request.
How to use​
Custom POI creation​
OsmAnd allows you to create your Custom POI filters where you can collect needed POI from one/other categories.
Search button on the screen -> Categories -> Custom search
Search button on the screen -> Categories -> Add custom category
Combine POI types from different categories. Tap switch to select all, tap left side to category selection.
Below screen there is info panel about number of selected categories. Below selected category name you find names/number of selected POI types.
SAVE it:
iOS: Save button - enter name
Android: can add filter , next blue "SAVE" button below of the screen -> enter name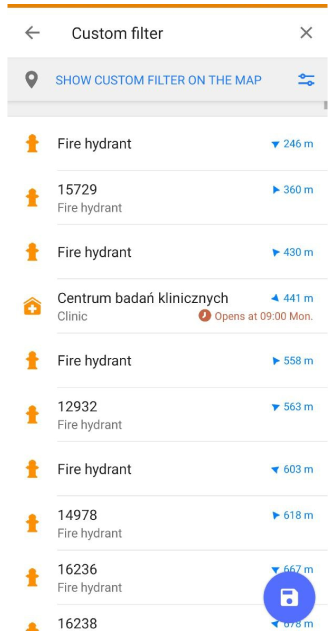 Edit an existing Custom POI filter​
From the main screen:
Tap on the agnifying glass to open the Search screen
Select the Categories tab
Choose the custom category : screen with search results will open
Tap on filter icon and then on Filter screen
Tap on the 3-dot icon
In the drop-down menu, select "Edit categories"
Delete Custom POI filter​
iOS: button "Delete custom categories" in Actions buttons
Android: you need to tap on Custom POI filter in the Categories list -> click to Filter button -> click to ⁝ -> Delete filter